TRAVEL
If you're new to travelling, there's a few essential tips to keep in mind wherever you're going. Don't be overwhelmed ...
Read More
Disclaimer: Real ducks were NOT used or harmed during this ride! No we haven't created a hybrid purple duck! https://www.instagram.com/p/BVinS24Ahmc/?taken-by=fourblissfulfeet ...
Read More
BLESS YOUR FEET
DISCLAIMER: We advise against feeding wild animals while interacting with them in their natural habitat. This picture has been clicked by ...
Read More
Besalu is a hidden mystery in the Catalonia region of Spain. Take a walk on the cobbled streets of a ...
Read More
POSTCARD
We have been planning to head to the beautiful Olympic National Park since long. Finally we managed to take the ...
Read More
The Columbia river gorge in Oregon state is a wonderful place. Not just it presents beautiful view of the gorge ...
Read More
REVIEW
Affimity is a pleasant relief in the world of social media clutter. Its tag line that states "Social Networks Reimagined" ...
Read More
Keep me updated of your travel tales!
Please follow & like us :)
2k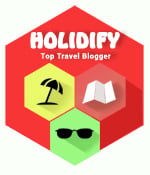 About Us
We are a traveling couple. We save up to travel as much as we can. We have been to 13 countries together and would love to share our stories with fellow travelers.